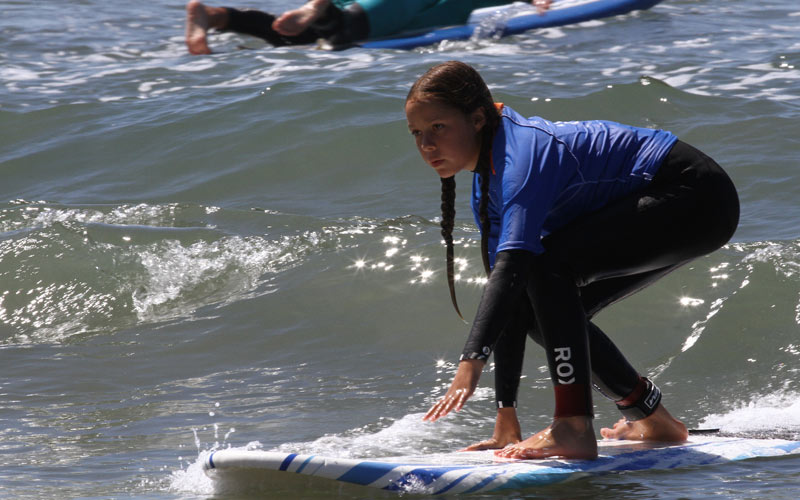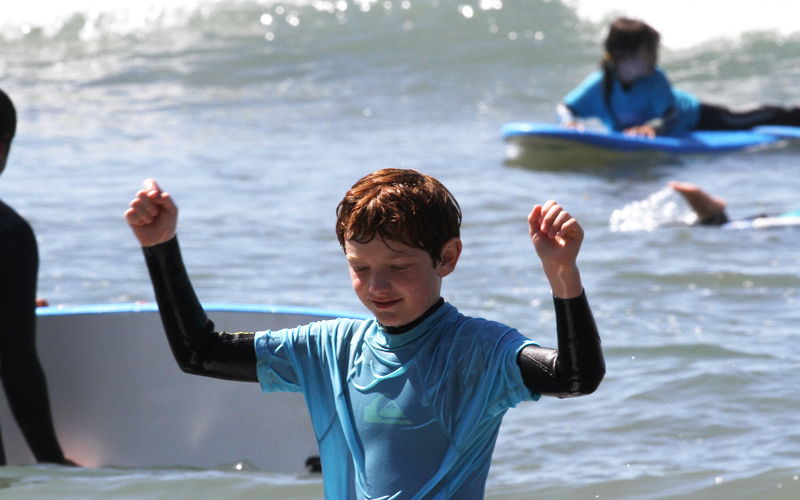 Mary Osborne Surf Academy
2024 Summer kids academy sign ups available

Mary Osborne Surf Academy has been sharing the beauty of surfing to all ages since 2000. Voted multiple years in a row by Ventura County Reporter and Sunset Magazine as the "Best Surf Camp," Mary and her incredible staff have taught thousands of kids and adults to surf from ages 2.5 years old to 75 years young.
"My goal is to have a  intimate surf program to ensure each surfer falls in love with the sport and  truly succeed. This means a more hands on personable experience for every student, smaller groups, and passionate instructors. I want every surfer at MO Surf Academy to succeed and not get lost in a  giant surf camp with unsafe and poor instruction. Surfing is an incredible sport and I am here to share my passion with others for generations to come."
~Owner,  Mary Osborne
2024 New Camp Options
We have a few changes to camp this season:
Morning camp- 8:30-11:30AM. (ages 7 up)
Afternoon camp- 12:00-3:30PM (ages 7 up)
Mini Shred Camp -8:30- 11:30AM – This camp is designed for those under 7 years old who need 1:1 with instructors. Max will be 5 students rotating in with the instructor while waiting on the beach with our Beach Mom.  Please see the dates below to sign up.
All our instructors are highly qualified to ensure your child has the most efficient, exciting and safe experience. Children will learn surf etiquette, ocean safety and all the important basics to riding waves.
 Our student ratio is estimated 3:1 unless we have  campers who need special attention with a 1:1 ratio. The "tiny campers" will rotate in with instructors.  ***Ages are 7 and up
Please note, we are only accepting only 20- 25 surfers per week. Every student must be signed up online and signed in/out every day by guardian.
Wetsuits and surfboards are provided for each surfer. Life vests available for our tiny surfers. We recommend booties to protect surfers feet but we do NOT provide booties.
No daily drop in allowed. Each surfer must attend the entire duration of the week.

Due to  limited size of classes, no refunds 1 week prior to camp unless space is filled by another student.
Pizza party & trophies every Friday.
2024 Surf Academy Staff
Shaun Callaghan-Head Instructor
Allison Perks- Beach Mom
Malia Callaghan- SR instructor
Zack Samprone- SR instructor
Eliah Boyd- SR instructor
Mary Osborne- Owner, Founder
Stetson Gilbert- Mary's son and mascot
AND MORE…
Professional Surfer Wastes No Time Teaching Surf Lessons
By Cindy Rodriguez
VENTURA, CA – This summer former professional surfer turned instructor, Mary Osborne, got right back to teaching the sport she loves after beaches re-opened following the latest COVID-19 closings.
Osborne was born and raised on the 805's coastline with the blue pacific as her backyard. Growing up with three older brothers, she found herself emulating their surfing habits. It was just a matter of time before a 12-year-old Osborne would learn to catch her first wave.
More than 23 years later with a lengthy list of accomplishments, the champion longboarder returned to her hometown of Ventura and started the Mary Osborne Surf Academy. She began the academy while on tour by dedicating a week of her summer to anyone who wanted to join. Osborne found herself booking two weeks to teach. That later lead to three, then four, and before she knew it, she was running a 15-week program.
"I really love sharing this with young kids, with anyone," said Osborne. "It's such a healthy sport to be out there."
The sport also allowed her to be present in the lives of young surfers who wanted to make the sport their livelihoods. Osborne mentors her 18-year-old head instructor Alana Klassen, who is also driven to turn the sport into her profession. She, too, grew up in the beachside community.
"I've known Mary forever. I've always wanted to travel, and do what she does, so I just have to get out there and figure it out," said Klassen. "Ever since I get in the water, I fell in love with it."
California beaches have yet to fully shut down again amid the latest COVID-19 restrictions due to a fall spike in new daily cases. Governor Newsom and Ventura County officials have continued to remind those visiting beaches to maintain social distancing from others.
Attack of the Van Boyz
By Geoff Van
The Van Boys Charge at Mary Osborne's 2016 Surf Camp.
Ms. Mary (as my Andrew calls you),

I just needed you to know I so love every thing about what you do. As a junior high counselor, I find it so rare to find someone who so naturally just can "speak" kids. You and your instructors are beautiful examples of confident, strong, companion, decent human beings and I love that you are out there everyday, doing the work, walking the walk. I work with "tough" kids, but I tell ya: if I have learned anything after all these years, it is this: we all just want to matter. We all (big or small) want to know we matter.

You do that for all the kids that show up to your camp. I watched as you made them all feel so important, so apart of camp. You are a beautiful human being Ms. Mary. Thank you for making my kids feel so important. Good luck to you, and I hope you continue to see success and I will probably bug you this winter for some lessons: they are hooked and I certainly cannot do what you do with them. And don't worry, as a former competitive athlete: I don't actually expect for them to be able to surf, when I say lessons: I really mean a play date to play on a board with you. For hell sakes I don't think they can even reach the water to paddle

All the best, Happy 4th.
Your new favorite high maintenance client

Nicole
I am so impressed with Mary Osborne's surf camp for kids! It is AWESOME!!!My son is 7 and has never surfed before this week and I consider him a beginner swimmer as well. He loves it so much he is consistently the last one out of the ocean every day and doesn't stop for a snack break! Mary is an expert surfer and has a large crew of expert surfing staff so that each child gets individualized attention and instruction. They have a fun and non-intimidating approach and make everyone feel welcome. Safety is an obvious priority for Mary and her crew and I honestly have to say I never worried that my son was unsafe or surfing beyond his capability. Every surfer is encouraged to do their best. Mary and her staff are very warm and friendly and take the time to get to know each surfer and their family. Mondos beach is an excellent location for the beginning surfer as well as those with more experience. It wasn't too crowded either. Mary's friendly dog, Brick, was also a fun part of camp 🙂 I will definitely be sending my son to Mary Osborne Surf Camp again and will be recommending it to friends. I am even considering a lesson for myself! Ventura is lucky to have a pro like Mary Osborne!

Lisa R.

San Diego, CA
Mary, I wanted to let you know that your surf camp is the best we have experienced around the world!! It was conducted with professionalism, safety and fun in mind. The student instructor ratio is like nothing we have ever experienced. Both my boys have left your camp knowing how to get up in the board and read the waves. Your instruction and instructors were patient, knowledgeable and fun!! The fact that you have your own bathroom for the kids to use is another plus!!!
Thank you for welcoming us and making my boys feel so special!
All the best of luck and we hope to see you in the future!!

Aus, Levi, Nancy + Paul
My 5 year old and I did this camp together and it was AWESOME! I originally signed up my 4 and 5 year old, but my 4 year old was a little freaked out and Mary suggested we try it next summer. I asked if I could take her place and she said "of course!!" I was so excited! After having 3 kids, I was kind of worried I'd be too old, or too out of shape to learn how to surf. Her amazing, and very kind instructors had me up the first day, every day I learned something new, and I can't wait to go again, it's all I think about! As for my 5 year old he was already able to surf when we started, her instructors taught him to turn on the waves, how to catch one alone, and really taught him so much more than he already knew! Mary is extremely kind, and very good with all the kids and her instructors are the sweetest people! They keep the kids very safe and no one was ever out of sight. Being a mom I was looking all around at all the kids and was very surprised to see the surf school next to us being very unsafe. Mary's instructors keep the kids all together and have a great rhythm of having the kids surf a wave and another instructor brings them back. We are so stoked and can't wait for my other 2 kids to go Mary's surf school! Highly highly recommended!

Sarah T.

Somis, CA