Saturday – August 20
Evening Music Headliners: Todd Hannigan, Roger Keiaho, Jessie Siebenberg, and Dave Palmer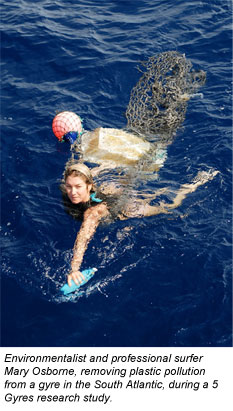 What better time than summer to celebrate keeping the ocean clean? Join nonprofits Museum of Ventura County and 5 Gyres Institute on Saturday, August 20, in the museum's pavilion, plaza and galleries, as they present Summer Splash Festival. Professional surfer and environmentalist Mary Osborne will be in attendance to lend her support to the day and evening fundraiser.
The daytime community event with activities and food court, is from 11:00 a.m. – 5:00 p.m., with $5 general admission, free for accompanying children 12 and under. The adult evening from 7:00 – 11:00 p.m. features the music of Todd Hannigan from the Heavy 29s, with Roger Keiaho of Rey Fresco, Jessie Siebenberg, and Dave Palmer. Zuri Star opens at 7:30 p.m. Cover charge for the evening event is $15 and includes a souvenir cup. Space is limited; for reservations call (805) 653-0323 x 7.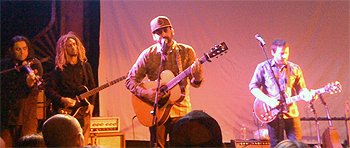 During the day, kids can meet the "Plastic Monster," and families can enjoy unique arts and crafts activities, including a station where you can create your own recyclable T-shirt bags. Both events include entry to the museum's galleries of ocean inspired art by more than 30 local artists, and environmentally themed sponsor booths in the plaza. This event is also supported by Safe Planet: the United Nations Campaign for Responsibility on Hazardous Chemicals and Wastes. Sponsors include Ventura Rentals, In the Mix Events, Shadowfax Audio Systems, Starlight Flix.Boys and Girls Club of Ventura Thrift Store and Vintage. Special thanks to E.P. Foster Library, Celebrate Autism, Indosole, Joe Cardella, City of Ventura, Environmental Sustainability, Matthew and Nancy South, Surfrider Foundation, Missy's Cupcake Creations.
Proceeds benefit the Museum of Ventura County's educational programs and exhibits, and the programs of 5 Gyres Institute. The Institute's goal is to eliminate plastic pollution, which is threatening oceans throughout the world. Their name comes from "gyres," the massive, rotating ocean whirlpools in which plastic debris is now accumulating.
The Museum of Ventura County is located at 100 East Main Street in downtown Ventura. For more museum information go to www.venturamuseum.org or call 805-653-0323. Go to www.5gyres.org for more information on the 5 Gyres Institute.
Visit the Ventura Museum for more information.
http://www.venturamuseum.org/SummerSplashFestival/tabid/290/Default.aspx